When you're visiting new college campuses, one of the main things to remember is to slow down and ask questions!
As an incoming freshman touring various colleges, you will be presented with opportunities to visit with students, admission staff, and professors. To best utilize this time to your advantage, it is vital to come prepared with your questions.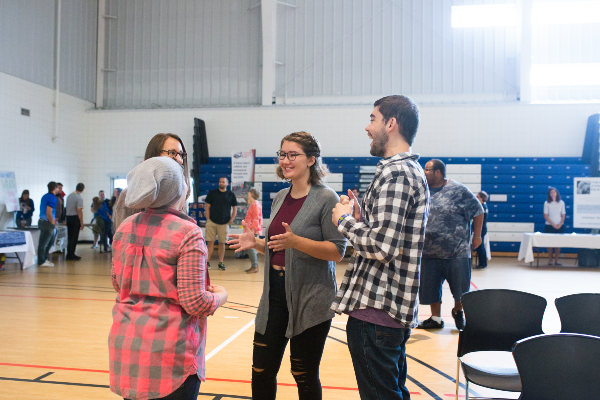 Why are college visits important?
It is important to be aware of the multi-faceted college admissions process. It can be very time consuming with the seemingly never-ending tasks such as building a college list, preparing for standardized tests, writing application essays, etc.
Among these tasks, college visits need to be a high priority. Incoming freshman may not understand the importance of the unique and exciting experience that campus tours offer during the college search. College visits are more than a check on your gut instinct of a school. They provide invaluable opportunities to explore your prospective college campuses before making the commitment.
Ask questions about topics that are most important to you—no question isn't worth asking!
Try to ask the same questions at each school you visit to use as points of reference and comparison between the colleges you visit.
Spend some time interacting with your tour guide—they are there for you! It is important to get a first-hand student perspective on things.
It is simply not enough to research colleges online
Being able to immerse yourself in each college's atmosphere in person allows for a more in-depth experience. This will help you decide which college works best for you as you begin your undergraduate journey. Visiting multiple colleges allows you to gain new perspectives on the kind of environments best suited to your individual needs.
Do not rush through your visits; take the time to really imagine yourself living and studying there! You are able to gain a more accurate sense of the student life, academics, housing experience, and much more. Make a list of questions prior to your visit. This will take the stress off of trying to remember each and every question you might have. Being prepared also reflects positively on your character as colleges consider you for admission. In this article, you will find some questions that are important to ask in the process of discovering which college will be right for you!
Questions for admissions
What leads students to choose this college?

Desired applicant qualities/traits/experiences

Other details about the application evaluation process

Role of ACT/SAT scores

Graduation rates

Career placements or grad school acceptances for graduates

Alumni networks

What makes the college special?

Admission standards for certain majors

Transfer credits

Job placement percentages

Percentage of students going to graduate/professional schools
Academics
Average class sizes

Average amounts of coursework

Accessibility of professors outside the classroom

Honors programs

Popular majors

General education requirements

Academic advising programs
Financial aid
What percentage of a student's financial need does the school typically meet?

Offered scholarships/grants

Average financial aid package

Loans vs. grants breakdown

Merit scholarship requirements

What happens to my financial aid package if I take longer than four years to graduate?

Average amount of loan debt

Work-study opportunities

Athletic/music scholarships

Completing the FAFSA

Cost of attendance
Track for on-time graduation
Graduation rates for double/triple majors

Reasons why students don't graduate on time

Retention rates

Requirements for graduating in four years
Academic support services
Getting help from professors

Tutoring options

Writing centers

Study groups

Computer labs

Learning disability services
Mental/emotional support services
Accessibility of health services

Freshman orientation programs

On-campus counselors

Emotional support animals

Number of students in support services
Student life
Dorm set-up

Dorms appealing to special interests (sports, music, etc.)

Percentage of students living in dorms

Roommate matching process

Single dorms

Possible roommate conflicts

Weekend events

Cafeteria hours/meal plans

Fraternities and sororities

Personal/campus transportation

Student diversity

On-campus jobs
Research, internship, and study abroad opportunities
Opportunities to work on projects/research with professors

Available internships

Departments known for research contributions

Study abroad programs

Career services
Extracurricular Activities
Most popular extracurricular activities

Community service clubs

Music organizations

Athletics

Other various clubs of interest
Final Thoughts on College Visits
A key tip in asking your questions is to avoid the ones that can more easily be answered by a quick Google search. Instead, make sure you get in those questions that will help you get a feel for the atmosphere, the students, and life on campus. Also, spend some time doing your homework by looking over the college's website before your visit. This is your chance to really get to know a college, so take advantage of the opportunity, and don't be shy!
Schedule a Visit to Great Lakes Christian College
Great Lakes Christian College is one of Michigan's only Bible colleges, where God inspires everything we do. There's no better way to feel the power of His presence and love than by visiting us in person.
There are several ways to see the campus:
Visit Days

Youth Group Visits

A Personal Tour