by Emily Elizabeth Smith, Great Lakes student
Accreditation is a vital aspect to earning the best quality college degree possible. However, understanding the accreditation process is lost on many people when they are choosing a higher education institution. In this article, you'll learn more about the importance of accreditation with how it affects your college and you personally as a student.
We are happy to announce that Great Lakes has been approved by the Institutional Actions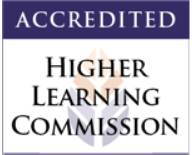 Council of the Higher Education Commission to offer distance education courses and multiple programs. In addition, Great Lakes has been approved by the State of Michigan to participate in the National Council for State Authorization Reciprocity Agreements. NC-SARA is a voluntary, regional approach to state oversight of post-secondary distance education.
What is accreditation, and how does it work?
Accreditation is defined as an achieved status that a higher educational institution has acquired by maintaining a top level of standards set by an accrediting agency.
The process of accreditation requires a college or university to undergo a voluntary evaluation of its educational quality to ensure it meets the strictest of standards. If they pass the evaluation and earn accreditation, it is an endorsement of their school as a legitimate institution of higher education. This status is earned through accrediting bodies, which are private, nongovernmental organizations that have been created specifically to review higher education institutions and programs. These agencies are regulated by Council for Higher Education Accreditation (CHEA) or the United States Department of Education (USDE).
Some of the factors agencies take into consideration when evaluating a college for accreditation include:
Overall Mission

Objectives/Goals

Student Requirements for Admissions

Services Available to Students

Quality of Education

Reputation of Faculty
Benefits of accreditation
Obtaining the highest quality education possible
When a school becomes accredited, it not only means that its legitimacy, quality, and standards have been tested, but also that it likely has a better reputation among graduate schools and employers compared to unaccredited schools. The accrediting agency evaluates the effectiveness of a program in terms of how well it prepares students to meet certain professional standards.
Gives value to course credits
Having obtained course credits from an accredited institution allows one to transfer those credits to another accredited institution. Some universities and colleges will only accept academic credits and degrees from institutions that have attained accreditation. In addition, colleges must be accredited before graduates can sit for state licensing exams.
Eligibility for federal grants or loans
The federal government values the accreditation process to the extent that they do not allow loans or grants to be awarded to students attending unaccredited schools.
Valued by employers
Accreditation matters to future employers! When applying for a job during or after college, employers want to feel confident that prospective employees have received a quality education that will benefit their work team. They look for accreditation status to verify that one has been taught the necessary skills in an environment with high expectations and standards that prepares them to enter into the workforce as a well-rounded member of society.
Continuous improvement of educational institutions
After earning accreditation, colleges must continue to improve exponentially while maintaining a focus on transformative, quality, and rigorous education. This ongoing process ensures that colleges push forward in their commitment to excellence.
Online Course Accreditation at Great Lakes
Getting an online degree has become an invaluable higher education option in recent years. Earning a degree online through an accredited educational institution allows you to learn and complete tasks at a personalized pace and have a flexible schedule. Online college classes are designed to fit your needs while allowing you to continue working and tending to other obligations.
As mentioned early, the Higher Learning Commission granted Great Lakes Christian College accreditation as of January 15, 2019. By taking accredited online courses at Great Lakes, you can be sure you are receiving key topic exposures, outcomes, and meeting acceptable quality education standards.
Because of a college's accreditation status, potential employers will subject an online degree to the same scrutiny they would a degree that was earned through the traditional on-campus learning format. The accreditation applies to all three of our current online, distance-learning programs, as well as to future programs that we are planning.
Our current programs include:
Bible Theology

Christian Leadership and Communication

Dual Enrollment
According to U.S. News and online education directory, OEDb, nearly three million students are currently enrolled in fully online programs and six million taking at least one online course as part of their degree. Online education has transformed into one of the most popular higher education alternatives.
Discover More about Great Lakes
To learn more about our admissions process, programs we offer or to schedule a tour, please contact us:
Greg Stauffer, VP of Enrollment Management (On Campus)
Phone: (517) 321-0242 ext. 230
Email: gstauffer@glcc.edu
Jon Jakubowski, Director of Online and Adult Classes
Phone: 517-321-0242, ext 249
Email: jjakubowski@glcc.edu
Click here for more info on our online programs.
We can't wait to hear from you!
---
Emily Elizabeth Smith is a twenty-one-year-old college student attending Great Lakes Christian College where she is double majoring in Interpersonal and Organizational Communication and Bible Theology. She previously attended Alma College and Lansing Community College but decided to transfer to Great Lakes to immerse herself in an environment where she can mature in her faith and build personal, lifelong relationships with her professors and peers. She is a strong writer winning various awards throughout her schooling career such as the campus-wide poetry contest at Alma College. Emily's plans after her time at Great Lakes are to use her invaluable skills to serve as a Kingdom representative of God and invest herself in enabling others to do their best, allowing communicative teamwork to move her into the professional workforce.