How do you apply a Bible Theology Degree?
It makes sense that a Bible College would offer a Bible Theology Degree, right? As Christians, our faith, beliefs, and very lives are centered around the teachings of the Bible. However, to grow and learn as Christians, and to become the servant leaders we are meant to be, our foundation of faith is greatly strengthened with a Bible Theology degree.
How?
If your future plans include church ministry, seminary or teaching, in order to get the most of God's Word, you must read the Bible in its historical, cultural and literary contexts. In order to instruct thoroughly and effectively on the Bible today, you must learn how Christian thought has developed throughout history.
By earning a Bible Theology Degree you will immerse yourself in biblical content and major doctrines of the Word of God, leading to greater spiritual maturity. Our world needs educated leaders to lead us through the mixed messages of the media, politics and the internet to better be able to discern God's plan.
Are you ready to be a Servant Leader?
At GLCC, while you are earning your degree in Bible Theology, you will take 40 credit hours of concentrated Bible teaching. Your courses will include:
Introduction to Biblical Interpretation
Personal Spiritual Formation
New Testament and Old Testament cycles
Career Paths for Bible Theology Majors
There are many career opportunities in church work and public service with this type of degree. You will be able to apply your knowledge and guide those around you with your deepened sense of faith and purpose. Students who obtain a Bible Theology Degree are prepared for the following missions: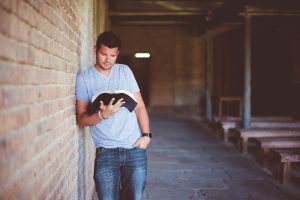 Pastoral
Evangelism
Missions
Youth ministry
Children's ministry
Counseling
Church administration
Prison or military chaplain
Guidance or mental health counseling
Social work
Ready to start?
If you would like more information or to apply to Great Lakes Christian College please call them at 1-800-YES-GLCC or email them at admissions@glcc.edu.
You can also visit our ADMISSIONS section of our website for more information.
Get ready to become the change you want to see in the world!