Do you have a favorite Bible verse?
Do you carry God's word with you in your heart? Is the word your instruction manual by which you live your life? In this article, we share 10 Bible verses that can help you in your personal walk with Christ.
"He does have surprising, secret purposes. I open a Bible, and His plans, startling, lie there barefaced. It's hard to believe it, when I read it, and I have to come back to it many times, feel long across those words, make sure they are real. His love letter forever silences any doubts: "His secret purpose framed from the very beginning [is] to bring us to our full glory" (1 Corinthians 2:7 NEB)." - Ann Voskamp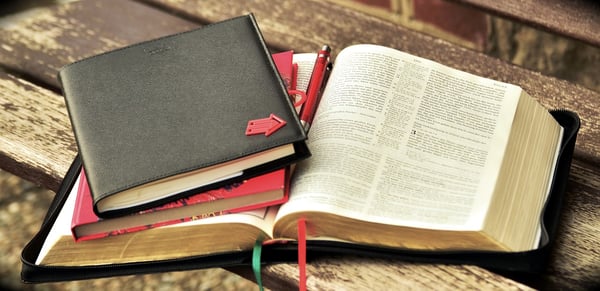 10 Top Bible Verses
#1. Isaiah 41:10
"So do not fear, for I am with you; do not be dismayed, for I am your God. I will strengthen you and help you; I will uphold you with my righteous right hand."
#2. Jeremiah 29:11
"For I know the plans I have for you," declares the LORD, "plans to prosper you and not to harm you, plans to give you hope and a future."
#3. Psalm 27:4
"One thing I ask from the LORD, this only do I seek: that I may dwell in the house of the LORD all the days of my life, to gaze on the beauty of the LORD and to seek him in his temple."
#4. Isaiah 40:28-31
"Do you not know? Have you not heard? The LORD is the everlasting God, the Creator of the ends of the earth. He will not grow tired or weary, and his understanding no one can fathom. He gives strength to the weary and increases the power of the weak. Even youths grow tired and weary, and young men stumble and fall; but those who hope in the LORD will renew their strength. They will soar on wings like eagles; they will run and not grow weary, they will walk and not be faint."
#5. Romans 8:28
"And we know that in all things God works for the good of those who love him, who have been called according to his purpose."
#6. 2 Corinthians 4:16-18
"Therefore we do not lose heart. Though outwardly we are wasting away, yet inwardly we are being renewed day by day. For our light and momentary troubles are achieving for us an eternal glory that far outweighs them all. So we fix our eyes not on what is seen, but on what is unseen, since what is seen is temporary, but what is unseen is eternal."
#7. John 3:1-3
"See what great love the Father has lavished on us, that we should be called children of God! And that is what we are! The reason the world does not know us is that it did not know him. Dear friends, now we are children of God, and what we will be has not yet been made known. But we know that when Christ appears, we shall be like him, for we shall see him as he is. All who have this hope in him purify themselves, just as he is pure."
#8. Hebrews 10:19-23
"Therefore, brothers and sisters, since we have confidence to enter the Most Holy Place by the blood of Jesus, by a new and living way opened for us through the curtain, that is, his body, and since we have a great priest over the house of God, let us draw near to God with a sincere heart and with the full assurance that faith brings, having our hearts sprinkled to cleanse us from a guilty conscience and having our bodies washed with pure water. Let us hold unswervingly to the hope we profess, for he who promised is faithful."
#9. James 1:2-4
"Consider it pure joy, my brothers and sisters, whenever you face trials of many kinds, because you know that the testing of your faith produces perseverance. Let perseverance finish its work so that you may be mature and complete, not lacking anything."
#10. 2 Corinthians 12:9-10
But he said to me, "My grace is sufficient for you, for my power is made perfect in weakness." Therefore I will boast all the more gladly about my weaknesses, so that Christ's power may rest on me. 10 That is why, for Christ's sake, I delight in weaknesses, in insults, in hardships, in persecutions, in difficulties. For when I am weak, then I am strong.
The Wrap Up: Favorite Bible Verses
Reading inspirational Scriptures can help encourage and lift up your spirit in times of doubt, loss, mourning, sadness, or hopelessness. They also remind us just how awesome and powerful our God is. He deserves our complete devotion, praise, and worship.
We have been gifted with the Bible that contains endless passages that uplift the mind and heart, giving the strength you need through the reckless love of God to get through each day.
2 Timothy 3:16 tells us that all Scripture is inspired by God and useful for teaching, rebuking, correcting, and training in righteousness.
What better source of inspiration than what comes from our Creator! Whether you are looking for motivation, encouragement, reassurance, or peace, God's word waits for you to turn to in all seasons of life.
Why should you study the Bible? Check out some key reasons why it is invaluable in a growing Christian's life.
Study the Bible at Great Lakes Christian College
We have both on-campus and online classes for your convenience. For high school students we offer a Dual Enrollment Program to earn an associates degree while you are in high school.