Now is a great time for young adults with a Theology degree from a Bible College to become ministers.
The current average age of ministers is much older than it used to be. With this comes a great opportunity for students with a passion to lead a congregation, minister to peoples' faith and instill the love and word of God in youth. The Body of Christ is in need of young ministers more now than ever before.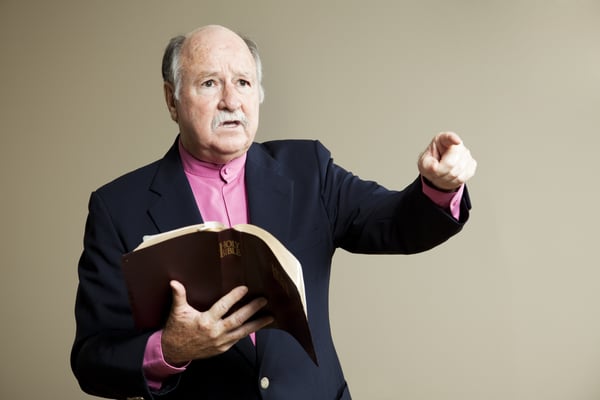 In 1992 the median age of Protestant clergy was 44 years old. According to a study done by Pepperdine University and Barna, the current average age is 54. This means that only one in seven ministers is under 40, and half are over 55. The percentage of church leaders 65 and older has nearly tripled, meaning there are now more ministers in the oldest age bracket than there are leaders younger than 40.
Why Is There a Lack of Young Ministers?
Living Longer. One reason may be simply because people are living longer. The average life expectancy for men in 1968 was 66 years old and today it's 76. That is great news!
Second Careers. Another reason is that many people are becoming ministers as a second career. They are entering the profession after having first pursued a non-ministry career, so they are already older than the average newly graduated college student.
Financial Security. The 2008 financial crisis set many people back financially, and ministers weren't immune to this either. The result is that many people, across industries, aren't financially ready to retire yet.
What Does this Mean for Young Adults Wishing to Become Church Leaders?
Bridging the gap. While the above examples list reasons why there are more older ministers now, that doesn't necessarily translate into fewer ministerial jobs for younger clergy. Quite the opposite. Each generation is seeing fewer and fewer youth attend church, and younger ministers are the key to bridging the gap.
Mentors. Older ministers are having a hard time finding younger people to mentor into leadership positions. As we know, none of us will stay on earth forever, so the Church needs younger ministers and leaders to fill these positions as ministers retire and enter the kingdom of heaven.
Career Potential. Today's teens and young adults put a lot more emphasis on a well-meaning career in addition to earning potential. They have to love what they do and they have to feel it makes an impact in their lives and the lives of others. There are a lot of vocations other than full-time ministry that can offer this, which is why ministerial leadership is often overlooked as a viable option. However, a theology degree from a credible Bible college is a great pathway to a life of meaningful work. The opportunities are in abundance and job security is quite high.
The prospect of a massive church leadership shortage in the coming decades requires urgent action on the part of church networks and independent churches to determine how to best motivate, mobilize, resource and deploy younger ministers.
It Starts with a Degree from a Bible College
Do you feel you are being called to become a minister? Is God urging you to help bridge the gap and secure the future of the church? The first step is to apply to a Bible college. Great Lakes Christian College is a great resources for both in class and online courses.
Students in the Ministry Major are provided the basic, specialized, and practical skills necessary for the work of the ministry. Graduates completing the Pastoral Ministries Concentration will be able to:
Effectively interpret and communicate the Word of God.
Articulate a biblical philosophy of the servant-leader's role in God's mission to the world.
Administer local church ministries; demonstrate pastoral and interpersonal skills.
Interested in Ministry? Get Your Start at GLCC.
At Great Lakes Christian College, we help train tomorrow's church leaders. We can help you. Call 1-800-YES-GLCC or schedule a personal visit. Better yet, apply today!
This article first appeared in 2019 and has been recently updated.