Are you being led to church work? You can say yes to a call to ministry with GLCC's Online Ministry Programs.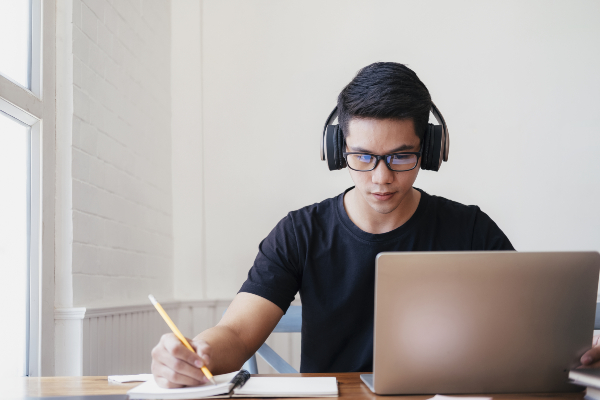 Maybe you are already working within your church. You can enhance your career opportunities with online Youth Ministry, Church Planting, or Leadership degrees.
Anyone who wants to work in a religious vocation or just wants to learn more about their faith could benefit from enrolling in online programs.
There are many reasons to consider an online degree from a Christian college as a way to advance your education and career. With online Christian classes, it's never been easier to learn and study on your own schedule and at your own pace.
Great Lakes offers programs that are diverse in age, denomination, race, geographic location, and gender. However, they have one thing in common; they all desire to learn more about their faith and answer their call to do Kingdom work.
Classes start every 5 weeks, so it's always the right time to begin!
Our accredited online Christian college programs are designed to be flexible and affordable so you can successfully complete them entirely online without sacrificing work, community and family responsibilities. With online Bible classes, you work around your schedule one class at a time.
Online Programs in Ministry
We want to help you be the change you want to see in your church and your world. Our classes help you evaluate your personal leadership practices and learn additional concepts and technology.
Great leaders are found in every walk of life and these programs provide real-life information you can use in your career, daily life, at home, and serving others.
Do the following programs and classes sound interesting to you?
Bible Theology Online Associates of Arts
Are you a pastor? On the worship team? Work in church administration? Missionary work? Are you looking to increase your communication skills in a Christian learning environment? Career change or grow your faith knowledge? This might be the perfect fit for that next opportunity or personal growth. Learn more.
Christian Leadership & Communication Online Bachelors of Science
If you're serious about a career in ministry, this could be the starting point that will propel your career forward. Other work opportunities include church administration, nonprofit management, and youth group leadership.
Imagine what you could accomplish if you were a powerful communicator. With a solid foundation of communications skills, you could express the values of servant leadership in any faith-based organization or business in the world. Our Christian college online classes will help you build a solid communications foundation, technology skills, and hone your skills that will prepare for a wide range of communication experiences that you will encounter in your personal and public life.
Christian Leadership and Communication Business Logistics
Imagine impacting the world by having a degree in Business Logistics. A degree like that would provide a path to pursue a job in non-profit or for-profit organizations. With a degree in business logistics, you will learn to analyze data for purchasing, develop critical thinking skills, implement strategic planning, and ethical decision-making skills. Students concentrating in business logistics can live out Christ's teachings in the way they work, being a light to the world as a servant leader while being equipped to manage service and products with organizations all over the world.
Christian Leadership and Church Planting
The Church Planting degree is one of the most effective ways to learn how to launch and post-launch a church. The education will equip you with the principles, knowledge, and skills to do Kingdom entrepreneurship. The course work is taught by faculty who understand how to build systems for growth and discipleship within today's church. This program will prepare you to start your own ministry or church, to start new ministries for current churches, or to make an impact on the communities you serve. Be a part of a growing movement of Church planting.
Bachelor of Science in Christian Leadership & Communication with a Concentration in Youth Ministry
Children and adolescents comprise unique subcultures in our society to which the church must minister. The Youth Ministry Major will prepare students to minister to children and adolescents in both the church and world. To accomplish this goal, the student will participate in academic courses, practical courses and field experiences, as well as a seminar presented by leading youth ministers from the field.
Dual Enrollment Online Associate of Arts
Dual Enrollment is a program that allows public, private, or homeschooled high school students to enroll in courses at Great Lakes Christian College for credit prior to high school graduation. College credits earned through dual enrollment may be applied toward high school and college graduation and may be transferred to other colleges or universities. The Associate of Arts degree allows a student to do coursework in Bible Theology with some General Studies while building a foundation of Christian values for life.
How Do Our Online Programs Work?
One Class every 5 weeks.
Students start in a cohort group with anywhere from

5-10 students per a course

and go through the program together.
Weekly Assignments:

Each week students will complete weekly materials and virtually connect with students and instructors.
Asynchronous format:

Students will have the autonomy to log on 24/7 online.
Great Lakes Christian College has been approved by the State of Michigan to participate in the National Council for State Authorization Reciprocity Agreements. NC-SARA is a voluntary, regional approach to state oversight of post-secondary distance education. More information can be found at www.nc-sara.org
See What GLCC Has to Offer in Online Learning
At Great Lakes Christian College, we are a private Christian college that gives students the critical skills and values necessary to become true servant leaders. Call 1-800-YES-GLCC click below to apply to one of our online programs today!
This article first appeared in 2019 and has been recently updated.