Great Lakes Christian College places a high priority upon the study of the Bible and related subjects that will prepare students to be servant-leaders in the church and world. All academic programs are designed to accomplish this end.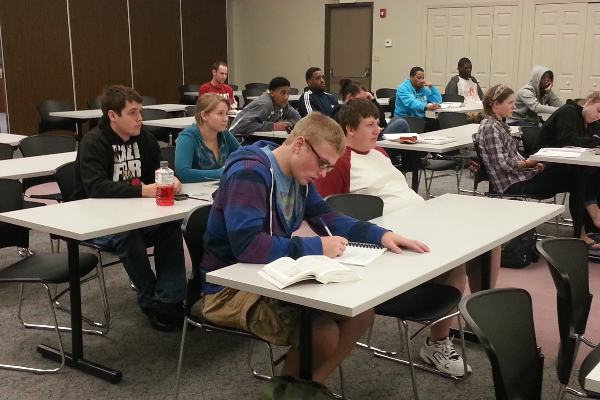 The Bachelor of Science degree requires completion of the General Education Requirements, the Bible/Theology Major, one additional major or minor and General Electives. It is designed to be completed in four years.
The Associate of Arts degree is designed to be completed in two years. A.A. programs classified as "Adult Learning Programs" are limited to applicants 25 years of age or older.
All degrees are awarded upon the satisfactory completion of the programs of study outlined in the following pages and upon the formal recommendation of the Faculty to the Board of Trustees of Great Lakes Christian College.
The College reserves the right to change requirements for enrollment in all programs and courses as necessary. Every reasonable effort will be made to provide alternatives for students affected.
Students desiring to obtain a degree from Great Lakes Christian College must submit a Declaration of Major form before reaching junior status. Graduation from a major program requires at least a 2.0 GPA in the courses that make up the major field of study.
CORE COMPETENCIES
Core competencies are the attitudes and skills that every graduate will develop during a four-year program at GLCC. These qualities are necessary for success and excellence in any field of service. The General Education Requirements lay the foundation for the Core Competencies, and the majors strengthen and extend them.
CRITICAL THINKING

: Graduates will demonstrate a habit of the mind that is characterized by the comprehensive exploration of issues, ideas, and events, based upon the careful selection and evaluation of information used as evidence before accepting or formulating an opinion or conclusion.

INTERPERSONAL COMMUNICATION SKILLS

: Graduates will be able to interact with other people one-to-one and in groups by applying skills in conversation, listening, conflict resolution, collaboration, and consensus-building.

KINGDOM MISSION

: Graduates will be able to articulate God's mission in the world, the church's role within it, and their vocation as individual believers in light of God's kingdom as revealed through Jesus.

RESPECT FOR CULTURAL DIVERSITY

: Graduates will be able to understand and, analyze, and appreciate the historical development of the knowledge, traditions, literature, values, and beliefs of human cultures around the world.

SELF-UNDERSTANDING

: Graduates will be able to recognize and evaluate their personality, strengths, weaknesses, and spiritual gifts in the context of their family of origin and life experiences.

WRITTEN COMMUNICATION SKILLS

: Graduates will be able to organize and present their conclusions, ideas, opinions, feelings, and beliefs to others in written form.
Discover Great Lakes Christian College
Schedule a visit or apply today!