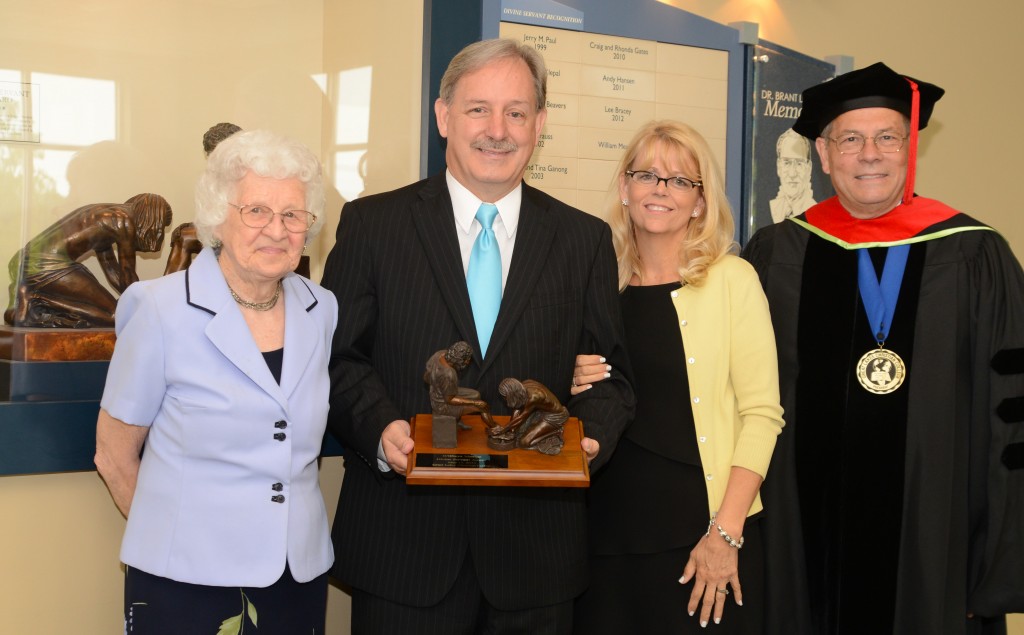 The Divine Servant Award is one part of a memorial to Dr. Brant Lee Doty who was the long-time Academic Dean and professor at GLCC. It was Dr. Doty who epitomized the servant leader model and who helped to incorporate it into the mid-set of those who were blessed by his instruction and example.
The Divine Servant Recognition, with the approval of the College Administration, is given to a Senior student or alumnus whose life has consistently illustrated the sacrificial servant spirit as taught by Jesus Christ and demonstrated in the life of Dr. Brant Lee Doty.
This award is the highest and most prestigious this college has to offer.
Bill is a 1979 graduate of Great Lakes Christian College. While a student here he met the love of his life, his wife Tami.
Bill is one of six children, born and reared in Columbus, Ohio. He is close to his family and is known to call his mother at least 25 times per week. He loves family life. He and Tami were blessed with four children, three girls and one boy and they now have 8 grandchildren.
After graduating from our college he served as a Youth Minister at Angola, Indiana and then at the Greenwood Christian Church in Canton, Ohio. In 1984 he answered the call to his first preaching ministry at the North Terrace Church of Christ in Zanesville, Ohio where he has served ever since.
His dream for ministry is to watch people grow to become more than they ever thought possible. Coupled with that is his desire to see the church grow and make an indelible impact on the community. The bottom line is that he simply wants to be used by Jesus to save souls. North Terrace has experienced tremendous growth under his servant-leadership. In his almost 30 years the church has grown from an average of 140 to a peak average of 850. His desire to see people grow led him to continue to grow as he did graduate work at both Kentucky Christian University and the Beeson Institute.
Among the honors he has received throughout his ministry there is one he especially cherishes. The "Forever Dads" organization honored him recently for his example as a father and for his involvement in the community. This is high praise indeed.
Bill has served as a Trustee for the Christian Children's Home of Ohio. He has also served on the Board of Directors for Round Lake Christian Assembly. And he currently serves as a Trustee for Great Lakes Christian College.
Bill has been a servant for most of his adult life. He has been a servant-leader. He has tried to follow Christ's example. As a result, he has made an eternal impact on the communities where he has served. He has made a difference in people's lives that will never fade away.