Learn About the Past So You Can Change the Future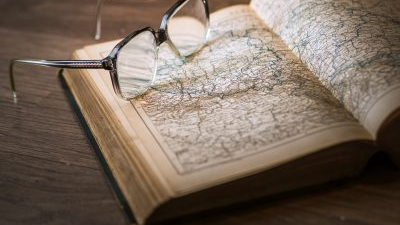 A History Degree from Great Lakes Christian College provides students with a framework for understanding, interpreting, and evaluating events throughout history.
But a history degree goes far beyond the mere studying of past events. Once a student earns a history degree, he or she will never be the same. They will no longer be able to look at the world from a limited context.
In order to change our current world and improve our lives (and the lives of those who come after us) it is imperative we understand what has already been done. Whether it be good, bad, or otherwise, we can learn from it and improve upon it to make real, lasting transformations.
Want to know more about GLCC?
Schedule a visit or contact our admissions team today.
The History of the World & The History of the Bible
A History Major also provides a student with the context for events and people related to the Bible and the church. In addition, it intentionally seeks to participate in "character building." It helps a student to mold his or her attitudes and values within the principles of the Christian faith.
It covers a wide range of interests and is a solid foundation for students to build further study in many fields such as:
education
law
journalism
government
It is also useful as a background for:
seminary studies
home or foreign mission work
archaeology
home schooling
Students with a History Degree go on to get jobs in:
historical societies
museums
libraries
criminal justice
much more
A History Degree and Public Policy
The Public Policy track is an option within the History Major for those students who are planning a career in Government, public service, or law. Lansing, our state capital with many government offices, is blessed to have Cooley Law School in town. Cooley is the largest Law School in the country with approximately 3,000 students.
Some of the classes required for this major include things like Ancient Western Civilization, US History, Black American History, Family Law, Public Policy, and Research Methods in History. For a more complete list click here.
Graduates completing this degree will be able to:
Demonstrate a basic knowledge of the facts (events, people, places, dates) and flow (connections, influences, lessons, etc.) of history;
Distinguish between established truths and mere opinions;
Critically evaluate various situations, dilemmas, and viewpoints or interpretations;
Display the ethical lessons of history that are consistent with Biblical Christian morality in his or her personal lifestyle, conduct and relationships with others;
Produce written research of a quality commensurate with that of respected publications in the field.
Take the Next Step
At Great Lakes Christian College, we work hard every day to give our students the best value and personal attention that we possibly can so they can be the most successful versions of themselves. Schedule a personal visit to see the difference a small Christian college can make in your future.
Better yet, apply today to get the process started.
This article was originally published in 2018 and has been recently updated.