Summertime is halfway done. If you haven't done so already, it's not too late to make one of the biggest decisions that you'll have made so far: choosing the college that's right for you and your future. Choosing a college can be stressful, so we've decided to make things a bit easier by giving you three great reasons to attend Great Lakes Christian College!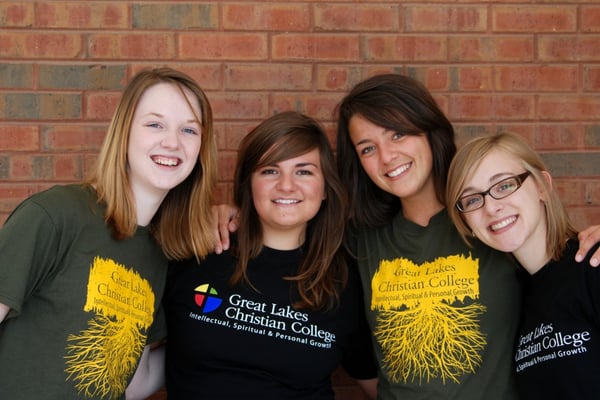 #1. We're one big family.
When you're choosing a college, you're looking for a place where you'll fit in and belong. Bigger universities and colleges tend to have an overwhelming ocean of faces. This tends to make incoming students feel distant and isolated. However, Great Lakes is a small community full of friendly faces that you'll get to know in a heartbeat! We all get close almost as soon as the year starts, so you'll feel right at home.
#2. The professors are part of that family.
When you think of college professors, you might picture stand-offish old men who sit in their offices all day and have minimal contact with their students. Great Lakes has a unique perk in this area, as many of the professors actually live on campus. All of them are involved in the life of the campus. From the classroom, to special events, and just relaxing and talking outside of class, the professors here are a part of the family and you'll grow just as close to them as you do to the other students.
#3. Great Lakes fosters your faith in Christ.
In an increasingly secular world, it's hard to find a refuge where your faith is allowed to prosper. Colleges are known for being generally hostile to faith, so it's a welcome change of pace that Great Lakes not only welcomes your faith in Jesus, but it fosters your faith as well!
We have a wonderful set of courses that are centered around deepening your faith with Jesus, several local churches to choose from, and chapel services to praise and honor God. Great Lakes is an excellent place to deepen your faith in God and learn about the faith of believers for anyone!
Although choosing a college can be a difficult time, it doesn't need to be overly stressful. With an excellent community, amazing professors that complete the family, and incredible programs to deepen your faith, Great Lakes is one of the most special opportunities for college around. While you think about where you want to go for your higher education experience, be sure to relax, enjoy your summer, and keep Great Lakes on your radar!
It's Not Too Late to Register for GLCC
Great Lakes has many opportunities to prepare you for a career serving the Lord and ministering to those abroad. Call 1-800-YES-GLCC or schedule a personal visit. Better yet, apply today! It's not too late.
This article first appeared in 2019 and has been recently updated.